Xsens Motion Capture Solutions for Professionals
Motion capture technology has become a vital tool for professionals in many industries, from filmmaking and video game development to sports analysis and rehabilitation. Xsens, a leading provider of motion capture solutions, offers a range of products that deliver high-quality data with unmatched ease of use. Their technology has been used in a variety of applications, and as the demand for movement digitization continues to grow, Xsens has become a game-changer in revolutionizing industries.
Xsens' flagship product, the MVN Link motion capture suit, is trusted by production studios, sports practitioners, and healthcare providers worldwide. This skin-tight Lycra suit with 17 sensors ensures the best possible data recording, while its low latency of 20 ms makes it ideal for any live application or real-time pipeline. With a wireless range of up to 150 m and a battery life of 10 hours, the MVN Link lets you capture high-impact and highly-dynamic movement from multiple subjects without being tethered to a computer. The system includes a charging station and optional hardware synchronization capabilities such as EMG sensors and force plates.

Xsens MVN Link - Wireless Fullbody Mocap System
Wireless full-body mocap system with 17 sensors for precise and accurate data recording
Wireless range of up to 150 meters and 10-hour battery life
Ideal for production studios, sports practitioners, and healthcare providers seeking ease of use and unmatched accuracy
View Product
For those who require more portability, Xsens offers the MVN Awinda Starter, a cost-effective and easy-to-use motion capture system. With 17 wireless sensors fitted on the body with adjustable straps, it supports fast, easy, and reliable motion capture in a wide variety of applications. The system includes a full body strap set with three Awinda shirts in different sizes, as well as a 6-port USB charger and charging stations. With a wireless range of up to 50 m and a battery life of 6 hours, the MVN Awinda Starter is ideal for group and education settings, workplace ergonomics, rehabilitation and injury prevention, animation, entertainment, biomechanical science, and human factor research.

Xsens also offers the MVN Animate and MVN Analyze software packages, which provide a complete motion capture solution. MVN Animate is a real-time animation tool that lets you stream motion capture data directly into popular animation software, while MVN Analyze is a post-processing tool that allows you to analyze and fine-tune motion capture data. Both software packages provide an intuitive and efficient workflow that enables users to get the most out of their Xsens motion capture system.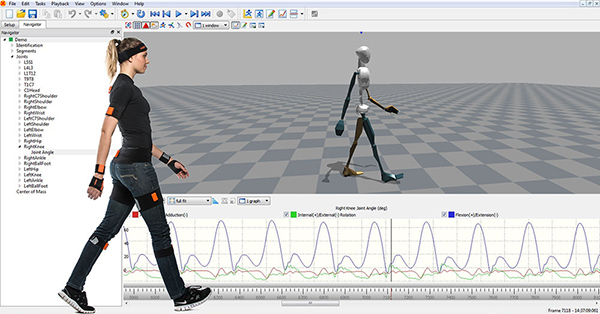 Industries and Projects that Use Xsens Motion Capture Solutions

Xsens' motion capture solutions have been used in a wide variety of industries, from major motion picture productions to groundbreaking medical research. In the film industry, Xsens technology has been used to capture the motion of actors and create realistic CGI characters. In sports, Xsens has been used to analyze the movements of athletes and help them improve their performance. In healthcare, Xsens has been used to develop new rehabilitation techniques and to analyze the movements of patients with neurological disorders. Xsens technology has also been used in the development of autonomous robots and virtual reality experiences.

Xsens Motion Capture Solutions - The Choice of Professionals

From next-gen gaming and live-streaming to digital health and autonomous robots, Xsens' full-stack technology to capture, digitize, and analyze movement is changing the world for the better. If you're interested in learning more about Xsens' motion capture solutions or purchasing a system, visit Knoxlabs VR Marketplace to find the product that fits your needs.

Read more about Movella Xsens Motion Capture Solutions on "Movella Xsens Motion Capture: Increasing Efficiency in Industries" article.
Find VR Headsets, Accessories and Advanced Devices
View All